There's no way around it; moving days are stressful! They can be emotional as well, so the less you have to do that day the better,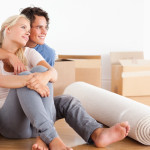 especially if you're completing the move yourself. We've put together a list of things you can do before you move to make sure that your moving day is simple and easy.
Declutter
The worst thing you can do is spend time packing and moving items that you don't need. We recommend going through ALL of your stuff and throwing out or donating as much as possible to cut down on moving time and costs. This can include old documents that can be shredded before the move. If you have a large amount of things to get rid of like books, clothes, toys or furniture, consider having a moving sale. A little extra cash never hurts!
Wait to clean
A lot of our clients make the mistake of cleaning before the move. I can tell you right now, moving is a dirty process. With people in and out of your home, the floors will get dingy, dust will blow in and out of open doors and scuffs on walls can happen. I recommend waiting until everything (or almost everything) has been removed from the home or apartment before getting down and dirty with your cleaning supplies!
Mark your furniture
It'll be much easier once you arrive in your new apartment or home if you have tagged furniture and boxes so you know precisely where to put them. Nobody wants to 'move' a second time once everything is in the home. If you hire a moving company to pack and move, they will mark your boxes for you, but if you're doing your own packing and or moving then make sure to mark the boxes accordingly!
Remove anything you're taking from the walls before moving day
There's nothing like the feeling of completing your move. There's also nothing like realizing you still have to take down curtains, towel racks, hooks or nails. Walls can often be forgotten during the move as you're focused on furniture and clothing. Don't leave a precious photo or your favorite window treatment behind!
Take the "stuff" out of the dressers and night stands
Dressers often have to be turned on end to get through doorways and hallways, so remove all breakables, valuables and firearms from the drawers. You wouldn't want a jewelry or coin jar to spill and the contents to fall out during the move. Also, books and magazines can add a lot of weight if left in a drawer.
There are plenty of things you can do before a move to make sure moving day goes as smooth and seamlessly as possible! If you're looking for a professional moving company in the Phoenix area you can trust, give Metro Movers a call at 602-242-1160.
Let us know any pre-moving tips that you have below!