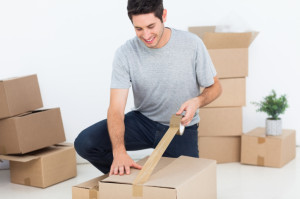 As you're preparing for your big move, you have to decide what to leave out so it can be used in the days leading up to moving day. You can pack up the big things like furniture, clothing, rugs and things on the walls like art or photos, but there are some things you'll need even the morning of your move.
Related: 5 Best Ways to Prepare for Your Move
Here are the essentials you should wait to pack until the morning of your move:
Cleaning supplies – Even if you've done a great job cleaning before moving day, as things are shuffled around you'll notice spots you missed and the dirt tracked in and out from movers. Keep out the essential cleaning supplies like Windex, paper towels, a Swiffer and anything else you think you could use to tidy up before leaving.
Kitchen basics – You'll need breakfast on moving day! Leave yourself just enough plates, forks and glasses. Then you can pack those and take them with you in your vehicle. Plan moving day meals so you have only what you need left in your refrigerator. Or you can eat out and treat yourself for all of your hard work!
Clothing – You'll probably break a sweat if you're moving yourself. You'll get dirty and you'll want a change of clothes. Pack a small suitcase with an extra shirt and pants for everyone involved in the move. You might be too tired to unpack clothing once you get to your new home so be prepared with pajamas to throw on following your post-moving day shower.
Electronics – You might need your laptop to do any last minute moving day preparations, and don't forget to leave your phone charger out! You don't want your phone to die and not be able to charge during the hectic day.
Bathroom Essentials – Many people will forget to leave their toothbrush, hair brush and toothpaste out for the morning of the move. Another thing that's important to have is toilet paper! Leave one roll in the old home and take one with you to the new home. You'll be hydrating during the move and you're bound to need to use the restroom at some point.
Related: Create a Music Playlist for Your Big Moving Day 
If you have any other questions about how to prepare for moving day or need some packing tips, give us a call at 602-242-1160. As the leading moving company in Phoenix, our years of experience can help you have the smoothest move possible.